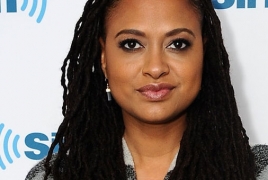 March 14, 2017 - 11:29 AMT
PanARMENIAN.Net - The filming of Disney's fantasy movie "A Wrinkle in Time" has wrapped and director Ava DuVernay has shared numerous stills and set photos via her Twitter account, AceShowbiz said.
"Principal photography for 'WRINKLE IN TIME' wrapped last night! An epic adventure. I loved each and every minute," the Oscar-nominated filmmaker tweets.
One of the photos sees Andre Holland's character Principal Jenkins. Alongside the photo, DuVernay expresses his gratitude towards the "Moonlight" actor by saying, "A dream of an actor and a man. Thanks, Dre."
Oprah Winfrey, who plays Mrs. Which in the movie, is also featured in one of the pictures. "Gosh, we had fun. My great friend. Her role... is literally out of this world," writes DuVernay alongside Winfrey's photo.
DuVernay also shares photos of herself with Reese Witherspoon and Mindy Kaling, who will play Mrs. Whatsit and Mrs. Who respectively in "A Wrinkle in Time". DuVernay tweets that Witherspoon "blew" her "everyday with her tremendous talent" and reveals that Kaling is "the first WRINKLE casting idea" she had.
In addition, Kaling shares a picture of herself and Witherspoon on her own Twitter account and writes, "That's a picture wrap on Mrs. Whatsit and Mrs. Who. #WrinkleInTime."
"A Wrinkle in Time" is based on Madeleine L'Engle's novel of the same name. It follows the story of Meg Murry (Storm Reid), whose scientist father Dr. Alex Murry (Chris Pine) is missing after doing some mysterious experiment. Meg later meets peculiar Mrs. Whatsit, Mrs. Who and Mrs. Which, who later send Meg, her brother and her friend to space to find Dr. Murry.
"Frozen (2013)" scriptwriter Jennifer Lee will pen the fantasy film based on Madeleine L'Engle's novel. Also starring in "A Wrinkle of Time" are Gugu Mbatha-Raw, Rowan Blanchard, Levi Miller, Michael Pena and Will McCormack. The movie is set to be released in U.S. theaters on April 6, 2018.