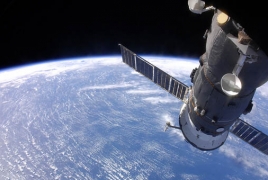 March 14, 2017 - 14:20 AMT
PanARMENIAN.Net - The Eurasian Economic Union (EAEU) plans to create a joint remote earth sensing system by integrating member states' satellites in 2019, Eurasian Economic Commission (EEC) Department of Industrial Policies Director Nikolay Kushnaryov said Tuesday, March 14, Sputnik reports.
The EEC is expected to draft an intergovernmental deal on the project this year with a further goal of launching the system by 2020.
"In the first half of 2018, the Eurasian Economic Commission plans to draft an intergovernmental agreement and an intergovernmental program on integrating the existing orbital and ground space system resources belonging to EAEU members, as well as expanding a joint remote earth sensing satellite constellation. The start of operations of such a joint constellation is planned for 2019," Kushnaryov told the Izvestia newspaper.
The project will involve the creation of a single commercial company that will use the system to provide earth sensing services to customers from all over the world, he added, noting that this will involve an integrated web portal that will let customers monitor urban and industrial zones, transport corridors, as well as agricultural and forestry areas.
The publication also quoted EEC sources as saying that the commission plans to jointly produce next-generation earth sensing satellites, with plans to launch the first EAEU satellite by 2020.
Funding is expected to be drawn from the Eurasian Development Bank, which had confirmed its interest in the project, and other financial institutions.
The EAEU is a regional political and economic bloc that aims to optimize the flow of goods and services between its members. Its current member states are Armenia, Russia, Kyrgyzstan, Belarus and Kazakhstan.