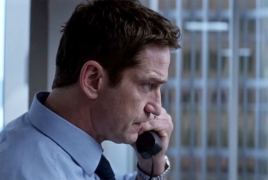 March 14, 2017 - 18:31 AMT
PanARMENIAN.Net - Voltage Pictures has released the first trailer for indie drama "A Family Man". The movie, starring Gerard Butler, focuses on a busy headhunter Dane Jensen (Butler) who is struggling to balance family and career when his 10-year-old son is diagnosed with cancer. Also starring alongside Butler in the movie are Willem Dafoe, Alison Brie, Gretchen Mol, Kathleen Munroe and Alfred Molina, AceShowbiz said.
The first part of the trailer sees busy Dane at his office, Blackrock Recruiting agency, which arranges jobs for engineers. Ed Blackridge (Dafoe), Dane's boss, later tells him and his colleague Lynn Vogel (Brie) that he retires and needs a new general manager to take over the company. "One of you will get the job," says Ed to both Dane and Lynn.
In order to achieve his lifelong goal, Dane is going head-to-head with ambitious Lynn to take over the company. He becomes busier than before and often sacrifices the time he should be spending with his family. "Sometimes I feel like you don't really live here," says Dane's wife Elise (Mol). "You just sleep here," she continues.
Situation gets more complicated when Dane's son Ryan is diagnosed with cancer. Dane's professional priorities at work and at home begin to clash with one another. He has to do his best to balance family and career, otherwise he will lose both.
"A Family Man" is directed by Mark Williams and penned by Bill Dubuque. The movie premiered at the Toronto Film Festival last year and is set to be released on DirectTV through its VOD service sometime in May.