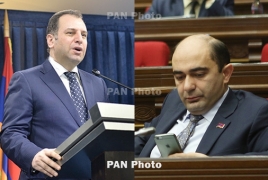 March 15, 2017 - 14:49 AMT
PanARMENIAN.Net - Armenia's YELQ bloc is accepting the proposal of Republican Party's deputy chairman Armen Ashotyan on holding TV debates among candidates heading the proportional lists of parties and alliances.
Parliamentary elections will be held on April 2. Nine parties and alliances running for seats at the National Assembly have already launched their election campaigns.
In a conversation with PanARMENIAN.Net YELQ spokesman Tigran Avinyan said the possibility, date and format of the debate are being checked, but that the alliance is ready for any format given the lack of debates on Armenia's political arena.
"Our proposal of holding a debate between Nikol Pashinyan - who comes in the third on YELQ's proportional list - and RPA's Ashotyan was rejected, but in case they make clear moves, there is no big difference in terms of the debate participants," Avinyan said.
Earlier, Ashotyan suggested organizing television debates only among the first numbers of all the political forces running. Defense Minister Vigen Sargsyan heads RPA's proportional list.