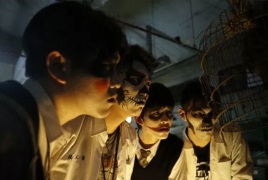 March 15, 2017 - 16:39 AMT
PanARMENIAN.Net - Taiwan writer and director Giddens Ko's thriller "mon mon mon Monsters" has been set as the closing movie of the 41st Hong Kong International Film Festival. The film will play on April 25, Variety reports.
Before that some 230 titles from 65 territories will be screened, including 69 world-, international- and Asian- premieres. The lineup was announced today, during the FilMart market that is currently being held in Hong Kong.
"Mon mon on Monsters" is the second film as director for prolific novelist Ko who previously made 2011 pan-Asian hit "You Are the Apple of My Eye," and latterly scripted "The Tenants Downstairs."
The festival announced a spotlight on Taiwan and is paying a 10th anniversary tribute to the late Edward Yang. Restored versions of some of Yang's best known titles, including "Taipei Story" and "A Brighter Summer Day," will be on show.
HKIFF is also presenting a section dedicating to the 20th anniversary of the handover of the sovereignty of Hong Kong from Britain to China. It will be offering free screenings of Hong Kong films produced after 1997, including a restored version Fruit Chan's "Made in Hong Kong."
The 2017 lineup includes several Berlin festival elements: golden bear best film winner, "On Body and Soul" by Hungarian director Ildiko Enyedi will play in Hong Kong. Poland's Agnieszka Holland who won Berlin's silver bear with "Spoor," will present her film and head the jury for the Firebird Young Cinema Competition. French director, Olivier Assayas will bring "Personal Shopper."
Earlier the festival announced that Pang Ho-cheung's "Love Off the Cuff", the third instalment of his romantic comedy series starring Miriam Yeung and Shawn Yue, would be the opening night film.