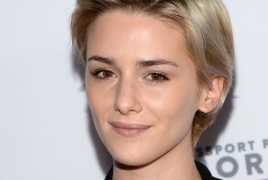 March 16, 2017 - 11:08 AMT
PanARMENIAN.Net - Hillary Clinton movie is on the way. The indie movie, titled "When I'm a Moth", has tapped "Fallen" actress Addison Timlin to portray young Clinton, AceShowbiz said.
The project is directed by Magdalena Zyzak and Zachary Cotler, who also co-write the script. According to TheWrap, the film will focus on the time when Clinton did odd jobs in Alaska in 1969, between her college graduation and the start of her law career.
Cotler said in an interview that "When I'm a Moth" would not be a biopic. Rather, he said that the film would be about "how politics makes you not real."
As for Timlin, she also claimed that "Moth" would not be a traditional biopic. "There are plenty of moments where we're like, 'This didn't happen,' " Timlin told Buzzfeed during SXSW. "It's less about that time in her life and [more] about...this young woman starting to have the understanding that her life from that point forward will be lived in a very specific way as to not disturb anyone-to become a very well-liked person," she added.
Regarding Clinton's loss in the 2016 presidential election, Timlin admitted that she was "so heartbroken" at that time. "I was so sad for her," the 25-year-old actress said. "Playing her and thinking about her and reading about her and listening to her when she was a young woman, she is f***ing remarkable. And she is adorable and she is so well-spoken and she is so charming, really. And she's done really incredible things, always-the whole time," she added.
Timlin is known for her role as Lucinda Price in fantasy movie "Fallen". She also starred on TV series "Californication" in 2011. Her upcoming movies include crime drama "Like Me", which had its world premiere at SXSW.
"When I'm a Moth" is set to be released in the U.S. sometime in 2018.