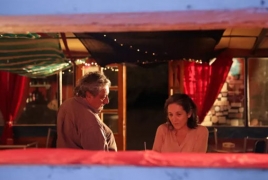 March 27, 2017 - 12:54 AMT
PanARMENIAN.Net - "The Desert Bride", an Argentine second-chance drama from first-time helmers starring Berlinale Best Actress winner Paulina Garcia ("Gloria"), took both big prizes at the 31st Films in Progress which wrapped at France's Toulouse Cinelatino Fest on Friday, March 24, according to Variety.
A gateway to big fest selection, so major arthouse or crossover sales agent pick-ups, Films in Progress also saw plaudits for two conflictive family dramas, Argentine cause-celebre based "Marilyn," from Martin Rodriguez Redondo, and "Jasmines in Lidice," directed by Venezuela's Ruben Sierra Salles.
The 31st Films in Progress also brought international recognition for a new production axis emerging in the southernmost parts of South America between Argentina, Chile and Uruguay, benefitting from both public-sector bilateral co-production funds and the fast-consolidating relations between top art-house producers in the region. This year's Toulouse winners are produced, among many more companies, by Vanessa Ragone's Haddock Films, producer of not only Academy Award winning "The Secret in Their Eyes" but also Viggo Mortensen-starrer "Everybody Has a Plan" and appreciable multi-twist thriller "The End of the Tunnel." Also behind the winners are fast-rising Chilean producer Giancarlo Nasi ("Land and Shade," "Jesus"), and Uruguay's Cordon Films, the well-consolidated production label of actor-director-producer Daniel Handler and Micaela Solé.
Sweeping the work in progress section's major plaudits, "The Desert Bride" won both the showcase's Films in Progress Prize and its Cine Plus in Progress Special Prize, the latter adjudicated by the movie channel division of giant French paybox Canal Plus. In a role which fits her like a glove, Chile's Garcia plays a 54-year-old live-in-maid in Buenos Aires whose staid life is upturned when she is forced to travel to the sticks, to San Juan, a provincial capital surrounded by dusty plains. The trip proves her salvation.
"The Desert Bride" proposes "a jump into the void to change direction. Thinking that everything has been decided, or is still to be decided, is rally the same thing, leaving us at a standstill facing the inevitable," the directors told cinema website Latam Cine.
The film marks the debut feature of Argentina's Cecilia Atan and Valeria Pivato. It is produced out of Argentina by El Perro en la Luna, the label of Sebastian Mignona; Haddock Films, Eva Lauria, Raúl Aragón and the directors also produce. Based in Chile, Ceibita Films ("Las hijas de Alonso") co-produces. Lucero Garzon associate produces.
Selected for San Sebastian's 2014 Europe-Latin American Co-production Forum, Chile's Sanfic Industry Lab and Australab-FicValdivia, "Marilyn" is another feature debut, from Argentina's Rodriguez Redondo. It is based on the true story of Marcelo B, today called Marilyn, who was sentenced to life imprisonment for shooting dead his mother and brother with a shotgun in 2009. She was also a partner in Argentina's first gay marriage in prison.
Produced by Maravilla Cine's Buenos Aires-based Paula Zyngierman, "Marilyn" is co-produced by Chile's Don Quijote and Rampante, both run by Nasi, and Uruguay's Cordon Films.
A third first feature, Sierra Salles' "Jazmines" is an ensemble women's drama turning on a mother and two daughters who all have suffered the murder of their sons. Influenced by the films of Naomi Kawase, "Jasmines in Lidice" is inspired by a stage play by Venezuela's Karín Valecillos, who adapted her own work for the big screen, tutored by Arturo Ripstein's scribe, Paz Alicia Garcidiego. Películas Prescindibles' Marianela Illas produces.