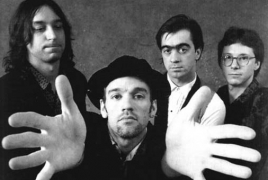 March 27, 2017 - 13:57 AMT
PanARMENIAN.Net - Michael Stipe has announced that he will be releasing an autobiographical photo book later this year, NME reports.
The R.E.M. frontman is working with frequent collaborator Jonathan Berger on the book, which is said to be about Stipe's life and his time with R.E.M.
Announcing the news in an interview with The Creative Independent, Stipe said; "This [book] focuses on my timeline, on the work I've done all along, all through the band and back to my early 20s," he said.
"It's all photo based, but some of it's just documentation of things I'm obsessed with and that I focus on to make new pieces from. There are also certain things I'll take, recontextualize, and present as something completely different."
Meanwhile, Stipe has compared his current heavy-bearded look to that of former late-night host David Letterman.
Letterman, who has grown his facial hair since stepping down from the Late Show after 22 years in 2015, graced a recent cover of New York Magazine.
Earlier this month, Stipe took a selfie of himself next to a copy of Letterman's magazine cover, calling the similarity "so fucked up".
Stipe also recently argued that Trump voters were not "voting for racism" but "trying to smash the machine".
Stipe went on to describe himself as "not a giant fan of Hillary Clinton" but hoped that the election would "galvanise" disillusioned American voters.