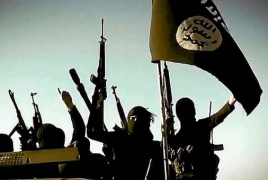 March 27, 2017 - 15:26 AMT
PanARMENIAN.Net - A U.S.-backed Syrian alliance of Kurdish and Arab militias on Sunday, Mach 26 took a military airport in northern Syria held by Islamic State, close to the country's largest dam that may be in danger of collapse, Reuters said.
The Syrian Democratic Forces (SDF), an alliance of Kurdish and Arab militias supported by a U.S.-led international coalition, said in a statement it had seized the air base.
Earlier, SDF spokesman Talal Silo said its fighters had seized "60 to 70 percent" of the airport but were still engaged in intense clashes with the ultra-hardline militants inside the air base and on its outskirts.
The SDF, backed by U.S. special forces in a campaign that has driven Islamic State from large swathes of northern Syria, fights separately from other rebel groups that seek to topple President Bashar al-Assad's rule.
The SDF has been battling the militants near the Tabqa dam and air base west of the Syrian city of Raqqa in an accelerating campaign to capture Islamic State's stronghold.
Hundreds of families were fleeing the city of Tabqa to the relative safety of outlying areas as U.S.-led coalition air strikes intensified in the past few days, according to former residents in touch with relatives.
The UK-based Syrian Observatory for Human Rights, which monitors the war in Syria, said a week-long campaign of U.S-led strikes on Tabqa and the western countryside of Raqqa province had killed at least 90 civilians, a quarter of them children, while injuring dozens.
A media representative for the U.S.-led coalition fighting Islamic State said it was looking into the Observatory's assertion.
Last week, the Pentagon said there were no indications a U.S.-led coalition air strike near Raqqa had hit civilians, in response to an Observatory statement that at least 33 people were killed in a strike that hit a school sheltering displaced people near the city. The Pentagon added it would carry out further investigations.
A group of civic bodies and local and tribal notables from Raqqa province warned of an impending humanitarian crisis in the city of Raqqa as a result of the escalating campaign to seize the de facto capital of the militants.
"We call for immediate efforts to save people and protect them," the statement of the Turkey-based opposition-run Local Council of Raqqa Province said, urging the international coalition to provide safe passage to civilians and ending bombing of infrastructure in the fight against Islamic State.