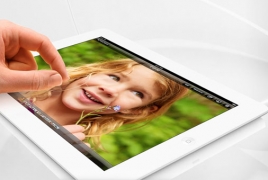 March 27, 2017 - 17:53 AMT
PanARMENIAN.Net - The US-UK ban on selected electronic devices from the passenger cabins of flights from some countries in north Africa and the Middle East was partly prompted by a previously undisclosed plot involving explosives hidden in a fake iPad, The Guardian reports citing a security source.
The UK ban on tablets, laptops, games consoles and other devices larger than a mobile phone came into effect on Saturday. March 25 It applies to inbound flights from six countries – Egypt, Jordan, Lebanon, Saudi Arabia, Tunisia and Turkey. Six UK airlines – British Airways, EasyJet, Jet2, Monarch, Thomas Cook and Thomson – and eight foreign carriers are affected.
It follows a similar move in the US, which applies to flights from 10 airports in eight countries – Jordan, Egypt, Turkey, Saudi Arabia, Morocco, Qatar, Kuwait and the United Arab Emirates.
The security source said both bans were not the result of a single specific incident but a combination of factors.
One of those, according to the source, was the discovery of a plot to bring down a plane with explosives hidden in a fake iPad that appeared as good as the real thing. Other details of the plot, such as the date, the country involved and the group behind it, remain secret.
Discovery of the plot confirmed the fears of the intelligence agencies that Islamist groups had found a novel way to smuggle explosives into the cabin area in carry-on luggage after failed attempts with shoe bombs and explosives hidden in underwear. An explosion in a cabin (where a terrorist can position the explosive against a door or window) can have much more impact than one in the hold (where the terrorist has no control over the position of the explosive, which could be in the middle of luggage, away from the skin of the aircraft), given passengers and crew could be sucked out of any subsequent hole.
The UK ban was announced last week after a security meeting chaired by Theresa May, with the Department for Transport setting Saturday as the deadline for compliance. While the US also has a ban, countries in Europe, including Germany, have so far failed to follow suit.
The US Department of Homeland Security said the ban on selected electronic devices was partly the result of terrorists seeking "innovative methods" to attack planes.