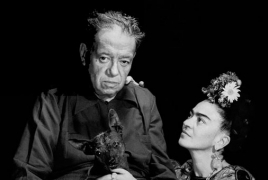 March 27, 2017 - 18:36 AMT
PanARMENIAN.Net - The first of two exhibitions, The Portraits of Marcel Sternberger: Icons of the 20th Century showcases 21 photographs of world-renowned figures--from Albert Einstein to Diego Rivera--opens to the public on March 29 at PRPH Books, 26 East 64th Street, was announced by Jacob Loewentheil, curator of the exhibition, which runs through April 15, Art Daily reports.
"Since his death in 1996, Sternberger's work has remained almost entirely out of the public eye," says Jacob Lowentheil whose book, The Psychological Portrait: Marcel Sternberger's Revelations in Photography, coincides with the exhibitions. "We are delighted to provide a glimpse into the world of Marcel Sternberger including portraits and ephemera from the artist's estate, many of which will be shown for the first time. Sternberger's revolutionary process marked a turning point in the history of photography, and we are proud to present his remarkable story to a new generation of admirers."
The exhibit is a preview of a larger show to be held at Baruch College's Mishkin Gallery in early October of 2017. "A leading portrait photographer of his generation" (New York Review of Books), Dr. Sternberger's many other subjects being exhibited included giants of the day such as Sigmund Freud, Frida Kahlo, Indira Gandhi, Jawaharlal Nehru, George Bernard Shaw, and the Shah of Iran. His portrait of President Franklin Delano Roosevelt is reproduced on the face of the American dime. Sternberger's photographs appeared in newspapers around the globe, on book covers and postage stamps, and in official portraits used by everyone from world leaders to Hollywood stars.
Says Loewentheil, "Sternberger's revolutionary process marked a turning point in the history of photography, and we are proud to present his vast oeuvre to the public." In his work Sternberger attempted to capture the realistic human expressions of his sitters, elicited through conversation and captured with his handheld Leica 35mm camera. The New York Times called Sternberger's methodology "a unique blend of psychological and photographic techniques." He believed in and defined "The Psychology of Portrait Photography," using both research and personal experience to navigate the complex process of a truly successful portrait session. Sternberger wrote, "The task of coordinating psychological understanding with aesthetical interpretation is tremendously challenging, particularly since it has to be compressed into such a relatively short time. You must concentrate all your carefully cultivated sensitivity, all your artistic experience to 'feel' your way into your subject's character, decide rapidly which his best [physical] points are, and how to exploit them to greatest advantage."
Sternberger fled his native Hungary fearing reprisals after protesting the anti-Semitic regime in the late 1920s. In Paris, he became a journalist for Le Soir, among other publications. In 1932 he moved to Berlin where he met his soon-to-be wife, Ilse. The two were to marry in June of 1933, but hurriedly married in April when they learned that the Nazis planned on confiscating the passports of Jews. After detention by the Gestapo they went to Paris and soon after, Antwerp. There he became Official Photographer to The Belgian Royal Family. As Nazism and Fascism spread across Europe, Sternberger and his family were able to flee to London with help from the Belgian Royal Family. After less than two years in London, he was invited by Franklin Delano Roosevelt to produce an official portrait in the White House. He would spend the next decade documenting luminary personalities across the United States. Later, he spent time in Mexico photographing the political and business elite before ironically befriending Diego Rivera and Frida Kahlo. He died tragically in a car accident at the height of his career in 1956.
This left his wife Ilse the sole guardian of this extraordinary archive of art. Many decades later she was determined to find the collection a place in history. Thus, it was with relief in 1996 when she met Stephan Loewentheil, a prominent antiquarian dealer to whom she could entrust the Sternberger archive. He promised to keep the collection intact until a solution to Ilse's dreams could be found. Her great aspiration was to publish Marcel's book and the archive of their joint work, to bring their art and history out of storage and into the collective memory of the present. Years later Stephan Loewentheil's son, Jacob, a student of psychology and photography, rediscovered the archive in storage.
An opening reception and gallery talk by Jacob Loewentheil will take place on March 28.