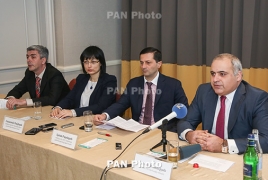 March 28, 2017 - 16:52 AMT
PanARMENIAN.Net - Ameriabank on Tuesday, March 28 launched a new payment tool called Drops, enabling customers to make automated payments through plastic cards on a daily basis.
Founder of Drops Vahagn Tsaturyan explained that large annual payments are often a heavy burden for the family budget, especially wintertime utility payments and tuition fees in general. Speaking to reporters, he said the new application allows customers to use their payment cards to pay the debts in small amounts throughout the year, thus avoiding one-time large payments and not having to visit a bank or another financial institution, ARKA says.
According to him, the application can be used to pay utility bills, tuition fees, communication and travel costs, make insurance and loan payments, set to soon be applicable for property taxes, fines for violation of traffic rules, etc..
As he noted, by registering with the system, users can choose the necessary service, specify the amount of payment and the payment timeframe; the app will independently schedule the payments - daily, weekly, monthly, as specified by the user, and will automatically write off the necessary amounts from their card accounts.
Ameriabank's Retail Operations Director Arman Barseghyan noted that the system allows customers to manage their personal financial flows. It also reduces the financial burden and helps avoid attracting additional loans to pay for certain expenses.
"Taking a loan is an additional burden, while in this case the client simply pays for the intermediary service in the amount of zero to 1.9%, which is significantly lower than other attracted resources," Barseghyan said.
Ameriabank Technologies and Operations Director Burastan Movsisyan explained that the new app is available to all ArCa, Visa and MasterCard holders.
"The application provides for remote management of one's financial flows with a high level of security," Movsisyan said, stressing that the system has three-level protection backed by VbV (Verified by Visa) and Secure Code technologies.
Drops commercial director Ashot Mesropyan said, in turn, that the number organizations represented in the app will grow.
"A number of Armenian higher education institutions, kindergartens, schools, insurance companies, tour agencies have already joined us. We are now negotiating to attract more organizations," Mesropyan said.
Ameriabank serves as the payment and settlement partner of the project. The application is available on AppStore and GooglePlay