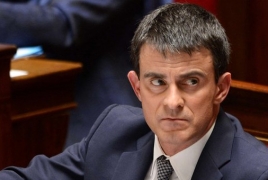 March 29, 2017 - 13:39 AMT
PanARMENIAN.Net - Former French prime minister Manuel Valls has said he will vote for Emmanuel Macron in the presidential election, the biggest Socialist party name to date to turn his back on its official candidate and back the centrist instead, The Guardian says.
Valls, a Socialist himself, said the election was wide open and he would do all he could to ensure that the far-right leader Marine Le Pen, second in opinion polls, did not win power.
"I'm not going to take any risks," Valls told BFM TV. "I will vote for Emmanuel Macron."
Opinion polls show Macron progressing to the second round with Le Pen, then beating her. Socialist candidate Benoît Hamon is set for a humiliating fifth place in the first-round eliminator.
Valls said his choice did not mean he would campaign for the 39-year-old Macron – a fellow minister in President François Hollande's government from 2014 but who quit last year to prepare a presidential bid under his own political banner, En Marche! (Onwards!).
"I have nothing to negotiate and am not asking for anything. I'm not joining his camp," Valls said.
Valls's endorsement is a mixed blessing for Macron, who has sought to avoid being cast as the candidate of the unpopular outgoing Socialist administration, instead pitching himself as willing to bridge the traditional left-right political divide.
"I'm suspicious of the hidden agenda of politicians," Macron told a news conference on Tuesday, March 28 amid growing talk that Valls was about to make his intentions known.
Valls, who lost to radical leftwinger Hamon in the primaries, is seen as waiting in the wings to pick up the pieces of the Socialist party after the presidential race and build a reformist force in parliament to get a say in a Macron parliamentary majority.