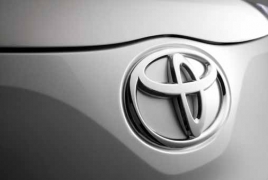 March 30, 2017 - 17:45 AMT
PanARMENIAN.Net - Toyota has turned to artificial intelligence for help in the hunt for new advanced battery materials and fuel cell catalysts. The Toyota Research Institute (TRI) is investing $35 million into the project and is teaming up with various institutions and companies, including MIT and Stanford University. According to the automaker's research division, materials development usually spans decades. By using artificial intelligence techniques, such as machine learning, the researchers can reduce the time it takes to conjure up new materials it wants to use for future zero-emission and carbon-neutral vehicles, Engadget said.
TRI Chief Science Officer Eric Krotkov said:
"Toyota recognizes that artificial intelligence is a vital basic technology that can be leveraged across a range of industries, and we are proud to use it to expand the boundaries of materials science. Accelerating the pace of materials discovery will help lay the groundwork for the future of clean energy and bring us even closer to achieving Toyota's vision of reducing global average new-vehicle CO2 emissions by 90 percent by 2050."
Toyota became a leading manufacturer of eco-friendly vehicles thanks to the Prius. In fact, the company announced that it has already sold 10 million of the hybrid cars as of January this year. While the automaker might make the materials this project develops available to its competitors, it has plans to expand its own eco-friendly offerings. The company has been working on fuel cell-powered cars for quite a while, and it announced last year that it's also building its first all-electric vehicle.