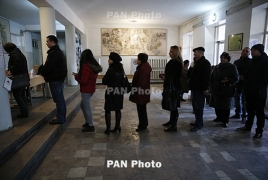 April 2, 2017 - 09:33 AMT
PanARMENIAN.Net - Armenians are casting ballots on Sunday, April 2 in the parliamentary elections. Nine political forces, including 4 blocs and 5 parties are running for seats at the National Assembly. PanAMENIAN.Net will be providing short coverage of the most important election-related events in the livestream below.
8:00pm:Polls closed in Armenia's parliamentary elections.
18:33 Police reported 84 cases of suspected election violations.
18:02 1.317.936 voters out of 2.557.706 (50.93%) cast ballots in the elections to the National Assembly. 49.6% of voters cast ballots in Yerevan.
16:59 The headquarters of the RPA representative Hakob Beglaryan issued an announcement addressing the vote buying accusations.
16:46:The police received 41 reports of alleged election violation in the seven hours of voting.
16:41: One of the trusted persons of YELQ bloc was removed from a polling station in the Armenian town of Vanadzor, YELQ number 1 Edmon Marukyan said, adding that the bloc has already dispatched another representative at the polling station in question.
16:35: The ANC-PPA bloc has registered open voting cases by soldiers and queues in front of polling stations.
16:22:Armenia's investigative committee received 13 reports on election offenses in the period between 8:00 am and 2:30 pm.
16:07: Parliamentary elections in Armenia pass without significant violations, OSCE observation mission representative Elvira Drobinski said.
15:56: Leader of Heritage party, ORO number 11 Raffi Hovannisian told reporters that in case of fair elections, the Ohanyan-Raffi-Oskanian bloc will make it to the National Assembly.
15:27: The Citizen Observer initiative registered 681 election violations in the process of preparation and the vote itself in the period between 8am and midday.
15:22: 865,884 citizens or 33,46% of voters cast ballots as of 2pm Sunday, April 2, a CEC representative told reporters.
14:55: The police received 23 alarm calls through its hot line telephone service in the period between 8am and 2pm.
14:42: Former Armenian prime minister, candidate from Free Democrats party Hrant Bagratyan has said he wants to "come to power and change the situation in the country."
14:17: Reporter of RFE/RL Armenian service Sisak Gabrielyanwas subjected to violence as he was covering elections in a polling station in downtown Yerevan.
14:05: As of 1:00pm, a working group formed by a decree of Armenia's Prosecutor General has studied 729 reports on electoral violations during the parliamentary elections.
13:43: The police have initiated a criminal case over two instances of election violations out of the 67 electoral fraud reports registered so far.
13:38: According to some reports, most cameras installed in 1500 out of the total of 2000 polling stations don't work. They were initially envisaged to livestream the elections, but the broadcast is basically not available.
13:09: RPA deputy chairman, former education minister Armen Ashotyan told reporters a lot of fake alarms are being reported during the elections,
12:58: Leader of Ohanyan-Raffi-Oskanian bloc, former defense minister Seyran Ohanyan cast his ballot at a polling station in downtown Yerevan.
12:57: The head of the European Union delegation to Armenia, ambassador Piotr Switalski said on Sunday, April 2 that he is expecting a positive outcome of the elections.
12:35:The Armenian Renaissance party leader Artur Baghdasaryan cast a ballot in the elections of the National Assembly, giving his vote for the rebirth of Armenia.
12:05 According to CEC, 13.32% of voters cast ballots as of 11 am.
11:24 The leader of Tsarukyan bloc, Gagik Tsarukyan cast a ballot. He refused to reply the bloc-related questions and expressed satisfaction over the election process.
11:08 Technical issues occur as President Serzh Sargsyan casts a ballot.
10:56 The Communist leader Tachat Sargsyan cast a ballot, hoping for the success of his party.
10:44 The Defense Ministry launched a hotline to report on election-related issues. The hotline is available at 1-28.
10:29 A brawl and an open vote was registered at the 13/18 polling station, ANC-PPA alliance reports.
10:14 Prime minister Karen Karapetyan and the ruling Republican Party of Armenia number 1, defense minister Vigen Sargsyan casting ballots.
09:57 The Human Rights Defender's office will be operating on a 24/7 schedule today.
09:46 The Central Election Commission chair Tigran Mukuchyan announced about the failure of technical equipment at two polling stations.
09:32 Media expert Samvel Martirosyan has launched an alternative system for registering the election violations. You can follow it here.
09:25 At the moment, the majority of cameras installed at the polling stations don't work.
09:14 According to the Citizen Observer Initiative, 69 various election violations have already been registered.
09:08 The majority of poll stations have been equipped with cameras providing live broadcast. The broadcast is available here.
08:00 Polling stations open across Armenia.