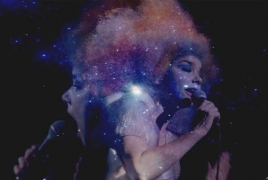 April 4, 2017 - 19:11 AMT
PanARMENIAN.Net - Björk has shared her music video for 'Vulnicura' track 'Notget'.
The epic video is directed by Warren Du Preez and Nick Thornton Jones and sees a digital rendering of the singer explode into bright light, NME said.
The clip was previously showcased in VR form.
Meanwhile, one of Bjork's close collaborators has revealed that she's "already written quite a bit" of her new album and it's sounding "really future-facing".
Artist and filmmaker Andrew Thomas Huang is responsible for producing some of Bjork's most striking recent music videos – including 'Blake Lake' and 'Mutual Core'. Now, he's revealed that they're planning on working together again on the follow-up to 2015's 'Vulnicura'.
"I'm also working with Björk on a video for her new album," he told Fader.
Asked about the sound of the new album, he replied: "I think it's a bit too early for me to say at the moment, but, you know, Björk's already written quite a bit of it. We just want to evolve what we did in 'Vulnicura,' which was so personal and introspective.
"What I can say is this new album's gonna be really future-facing, in a hopeful way that I think is needed right now. I'm excited. It will probably be utilizing more of my visual effects background as well."