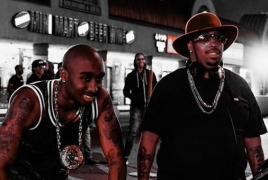 April 7, 2017 - 10:39 AMT
PanARMENIAN.Net - New trailer for Tupac Shakur biopic "All Eyez On Me" has been released by Lionsgate. The biopic follows the story of Tupac's rise to stardom as a hip-hop artist, actor, poet and activist. It will also feature Tupac's imprisonment and his controversial time at Death Row Records, AceShowbiz reports.
The first part of the trailer sees Tupac's (Demetrius Shipp Jr.) childhood. His activist stepfather Mutulu Shakur (Jamie Hector) gives him advice by saying, "You must stand for something. You must live for something, and you must be willing to die for something."
The trailer later gives a glimpse of Tupac's performance in front of enthusiastic audiences, Tupac's time in the studio and his meeting with a record executive. "We love your music, Tupac," says the record executive. "You paint a picture for the listener that's not always pretty, but it's real," he adds.
Like the previous trailer, the new trailer also features Jamal Woolard as Notorious B.I.G. He is featured together with Tupac, who tells Biggie, "We got a big platform. Use that platform to make change."
Tupac biopic is named after Tupac's fourth studio album which was released in 1996 and sold 10 million of the 75 million total sales of Tupac's albums. Other cast members include Katerina Graham, Dominic Santana, Hill Harper, Keith Robinson and "The Walking Dead" stars Lauren Cohan and Danai Gurira. Morgan Creek's James G. Robinson and David Robinson serve as producers alongside Program Pictures' LT Hutton.
Tupac was killed in September 1996 in a drive-by shooting in Las Vegas when he was only 25 years old. The story of his life and death has been featured in at least a dozen documentaries.