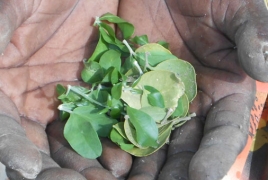 April 10, 2017 - 14:54 AMT
PanARMENIAN.Net - Children and others in a community visited by the Norwegian Refugee Council (NRC) in South Sudan are resorting to extreme coping techniques of eating leaves from trees as food runs out, even in crisis areas where famine has not been declared, NRC said in a statement.
"Eating barely edible wild foods is a coping strategy for communities trying to survive a food crisis," said NRC's Country Director in South Sudan, Rehana Zawar. "The bitter leaves eaten by families we spoke to are from the Lalop tree, and have limited nutritional value. When families eat these leaves and little else, malnutrition quickly follows."
NRC has emergency teams on the ground, and since the declaration of famine in parts of the country the organisation has helped support more than 100,000 people affected by the food crisis.
"Children are eating leaves off the trees," said Bhakita Abuk Deng (47) in Amothic village. "Children are suffering because there is not enough food to eat. Some of the children have diarrhoea from eating the leaves," she said, concerned for the health of her seven children.
"About 40 per cent of the people in Amothic are eating tree leaves. About half of the village are eating their seed stocks too," said Deng Yel Piol (48) the village chief of Amothic. This is alarming, as Amothic is largely a farming community, and there will be few seeds to plant next growing season.
In this remote region of South Sudan, the food crisis has hit Amothic in Aweil Centre County hard. While famine has already been declared in Leer and Mayendit counties to the south, villages outside Aweil are also running out of food.
Formerly known as the state of Northern Bahr el Ghazal, the counties which make up this region are currently in the 'crisis' phase or 'emergency' phase of food security; the latter is one level short of famine. This region previously was the site of a famine in 1998.
In areas where famine has already hit, some families have been eating wild water lilies, or seeds to survive. The consumption of seeds is especially alarming. Without seeds for cultivation, families will have nothing to plant for the next growing season. This could worsen the food crisis, and threaten to spread the famine to adjacent areas, the organizations said.