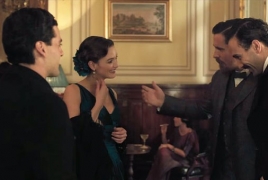 April 11, 2017 - 17:43 AMT
PanARMENIAN.Net - After surviving a targeted effort by Turkish lobbies to derail its success, the Armenian Genocide film The Promise will open in American theaters next week. And Hollywood celebs are getting the word out, a feature published by NewsBuster MRC said.
"Because the Turkish government still denies waging genocide against Armenians a century later, films about the conflict have encountered resistance. The most recent movie to tackle the topic – The Promise – stars A-lister Christian Bale, yet even that did not preclude pushback.
However, two months after the film's Toronto Film Festival debut, Open Road Films obtained distribution rights, celebrities joined in promotional efforts and the producers announced that all of the film's proceeds would go toward charities. After screenings in London and the Vatican last month, The Promise will open April 21 in theaters across America," the feature said.
Here are the big name stars who have joined in the effort to #keepthepromise.
Cher
Cher, born Cherilyn Sarkisian, is part Armenian herself. After screening The Promise, the "goddess of pop" tweeted: "This film broke my heart, & NOT JUST 4 ARMENIANS, BUT 4 ALL PPL WHO'VE SUFFERED & LOST LOVED ONES. We're all beautiful flowers We look best in a bouquet."
George & Amal Clooney
Hollywood actor George Clooney and his wife, human rights lawyer Amal Clooney, attended the London screening of the film. Mrs. Clooney represented the country before the European Court of Human Rights in a 2015 case against a denialist Turkish politician.
Leonardo DiCaprio
"Oscar Isaac, Christian Bale and Charlotte Le Bon, under the direction of Terry George, provide extraordinary performances in the upcoming film The Promise," actor DiCaprio wrote on his Facebook page. "I applaud the entire team, together with my good friend the legendary producer Mike Medavoy, whose enduring talent, dedication and commitment brought this important project and subject to life."
Dean Cain
In March, actor/director Dean Cain traveled to Yerevan, Armenia to speak with the Syrian refugees of Armenian heritage who are currently living there. "Armenians have been persecuted for centuries, they were the first bastion of Christianity," he told Fox & Friends on March 21. "And they are the only bastion of Christianity in the Middle East, in that area."
Naturally, Cain has also supported The Promise. "In college I studied history, I learned about genocides, like the Armenian Genocide, and the Holocaust," the actor commented in a video posted on Twitter. "There's genocides going on right now, here, today. I'm talking about Syria, Iraq, Sudan. I vow to keep the promise to relegate Genocide to the history books."
Barbra Streisand
"I am joining @esrailian & @thepromisefilm to #KeepThePromise to never forget," the singing star posted to her Instagram account.
Elton John
"I am thrilled to announce @thepromisefilm's release, a story about the Armenian Genocide, on Apr. 21. In the spirit of this film, I join the movement to #KeepThePromise to champion human rights, dignity & equality & an end to #AIDS through @ejafdn," the self-titled "flamboyant superstar" wrote on Instagram. "In a wonderful display of the human spirit, all of the film's proceeds will be donated to charity because, in a belief that I share, no one should be left behind. Thank you to @esrailian & everyone for your support throughout the years!"
Sylvester Stallone
"This extraordinary film is opening April 21," Stallone wrote of The Promise. "It is a subject that I have been fascinated with for decades and it has taken many years for someone to finally have the guts to make it and finally bring it to the screen for all to see…" The actor continued, "It is true and incredibly important historical drama That has all the extraordinary ingredients that can make a movie Oscar quality. It's amazing lead actors Christian Bale, and Oscar Isaac, Play their parts to perfection! And a special shout out to it's a legendary producer, Mike Medavoy, Who finally brought this epic story to the screen."
Don Cheadle
"Hi, I'm Don Cheadle and I've seen the effects of genocide up close and personal in Darfur," the comedian announced in a Twitter video. "I vow to keep the promise, and raise awareness and fight genocide around the world wherever it may occur."
Andre Agassi
Famed Armenian-American tennis champ Andre Agassi also publicized his support. "Hi, I'm Andre Agassi and I'm so proud to see that Kirk Kerkorian's vision has become a reality," the sports star commented over Twitter. "Help me keep Kirk's promise."
Tony Goldwyn
Scandal star Tony Goldwyn posted a video on Twitter with the comment: "@MPTF we #KeepThePromise every day to take care of our own. @thepromisefilm opening April 21 with ALL proceeds going to charities."