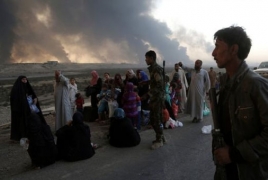 April 13, 2017 - 16:20 AMT
PanARMENIAN.Net - Moderate rebels are considered 'good guys' as long as they are targeting the enemies of the U.S., but once they get out of control they come to Europe and the U.S. to commit atrocities, says political analyst and Middle East expert Kevork Almassian, according to RT.
U.S. Senator John McCain warned that the capture of two major ISIS strongholds, Mosul in Iraq and Raqqa in Syria, could lead to "many people seeking violence" coming to Europe and the U.S. as refugees.
RT asked Almassian what could be done to prevent a new flow of refugees with potential terrorists among them.
He agrees with McCain that the U.S.-backed forces are not very close to occupying Raqqa and Mosul. However, he said, the question of control of the "flow of terrorists toward Turkey and Europe" should be addressed to Ankara.
"[Turkey] is geographically close to both Syria and Iraq. It was the government of Turkey that was allowing the movement of these terrorists from Turkey, and from Syria to Turkey back again," Almassian said.
According to the expert, there are "hundreds of radicals" in Europe, and many of them have been granted European citizenship and are therefore "already Europeans." Previously, many of them were fighting in Syria and Iraq, he said.
"There are sleeper cells in Europe and maybe in the U.S.. ISIS is trying to organize its cells in Europe by conducting terrorist attacks. Up till this moment, the attacks are being conducted by lone wolfs, but in the future, they will try to organize their ranks. So what [Western] government[s] should do is coordinate and cooperate with the governments of Syria and Iraq," he said.
But most importantly, Almassian says, Europe and the U.S. should stop "support of these so-called moderates." He added that the U.S. and Europe should "stop the flow of the money and the support…that is coming from Saudi Arabia and Qatar to terrorist organizations."
"Unfortunately, there is always this double standard there that there are good guys and there are bad guys for [the West]. These people will stay good guys as long as they are targeting the enemies of the U.S.. But when the Frankenstein has gone out of the control, they are coming to Europe and the U.S. to commit atrocities," the analyst said.
If the U.S. is serious about eradicating terrorism it should eradicate the root of it, he said.
"Then if we also want to fix the question of the refugees, one should stop the wars in the Middle East," he said. "These two important factors that we need to discuss very deeply," Almassian told RT.