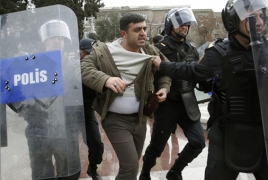 April 18, 2017 - 15:06 AMT
PanARMENIAN.Net - Falling oil prices sparked rare demonstrations over the rising cost of food in Azerbaijan last year, but a police crackdown and the deployment of a Soviet-style civilian militia have snuffed out the protest movement, Reuters said.
"Who wants to spend the rest of his life in prison?," said Uzbek, a taxi driver who said he was jailed for a month for protesting against galloping flour prices in the town of Quba.
The protests, which erupted across the oil and gas-producing country in January last year, raised the specter of instability in Azerbaijan, ruled by the same family since the early 1990s. Police broke the demonstrations up using water canon, batons and tear gas.
The heavy-handed response poses a potential problem for the European Union and EU firms cooperating with Azerbaijan to link a chain of pipelines due to carry Azeri gas to European markets by 2020.
The EU wants the project to work because it will cut Europe's dependence on Russian energy. But it does not want to be seen to be enriching a government that outlaws peaceful protests and jails anyone who defies it.
Interviews with some of the protesters in three different areas -- Quba, Siyazan and Shabran -- suggest Azeri authorities cracked down in a way that is likely to alarm policymakers.
They spoke of mass arrests and jailings, police brutality, punitive bans on work in state institutions, and police threats of more jail terms.
The authorities, resurrecting a Soviet practice, drafted local volunteers into a community militia. On the face of it, the militia is supposed to help police deal with minor law and order issues, but some residents said their function is to notify police about any stirrings of dissent.
Arun, a student in Siyazan, a town 90 kilometers (55.92 miles) from Baku, said about 50 people there had been arrested.
Most people he knew had been jailed for around a month, but some had been held for as long as six months, he said, and some had been beaten in prison.
Ehsan Zahidov, a spokesman for the Azeri Interior Ministry, said allegations of police excess were wide of the mark.
"We did not get any complaints from those who had been arrested," he told Reuters. "Why they did not complain if they were treated badly? They could also have taken their cases to courts. This information is not true."
The Italian office of the Trans Adriatic Pipeline firm, responsible for developing infrastructure to carry Azeri gas to southern Italy, declined to comment on the crackdown. Italian energy firm Snam, a 20 percent shareholder in the same project, also refused to comment, as did the Italian industry ministry.