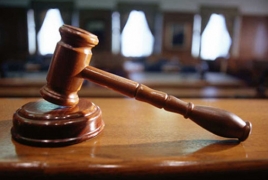 April 28, 2017 - 16:15 AMT
PanARMENIAN.Net - Constitutional Court rejected on Friday, April 28 the appeal against the official results of the April 2 parliamentary elections in Armenia and upheld the final results, adopted by the country's Central Election Commission (CEC), Panorama.am said.
The decision, read out by the Chairman of the Constitutional Court Gagik Harutyunyan considered as accepted upon publication.
The Armenian National Congress (ANC) – People's Party of Armenia (HZhK) opposition bloc, headed by the first president of Armenia Levon Ter-Petrosyan appealed to the Constitutional Court to invalidate the official results of the parliamentary elections.
The bloc, that received 1.65 percent of the vote, sugested that "large-scale and systematic violations of the electoral process, including widespread vote-buying and the intimidation of voters by government loyalists," precluded the free expression of the people's will.