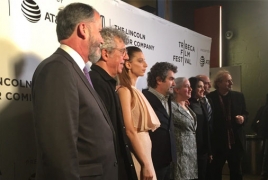 May 1, 2017 - 13:39 AMT
PanARMENIAN.Net - Filmmaker Joe Berlinger's documentary feature about the Armenian Genocide, entitled "Intent to Destroy", premiered on the night of April 25 at the SVA Theater during the Tribeca Film Festival, The Armenian Weekly reports exclusively.
On the heels of the nationwide release of "The Promise", Berlinger's "Intent to Destroy" takes the viewer behind the scenes of the making of Terry George's epic feature and expertly weaves the modern day depiction of the Genocide with scholarly — as well as eye-witness — accounts of its full history and continued denial to this day.
The "Promise," which premiered across the U.S. on April 21 and in Armenia on April 27, centers on a love story involving a medical student (Oscar Isaac), a journalist (Christian Bale), and the Armenian woman (Charlotte Le Bon) who steals their hearts. All three find themselves grappling with the Ottomans' decision to begin rounding up and persecuting Armenians during the first genocide of the 20th century.
While the peek behind the curtain of a feature film is certainly alluring, executive producer Eric Esrailian (Survival Pictures) has stressed that the documentary is much bigger than an inside look at the making of "The Promise."
"It's much more significant than behind-the-scenes, because we basically describe the depth of the denial—to some extent. I think it's actually deeper than is even reflected in the documentary, but this is as close as a documentary has ever gone into the denial. And then it also talks about the depiction of atrocities, and how it's been handled over the years, and the attempts to suppress the depiction… so I think it's really important for people to see that," Esrailian said.
Intent to Destroy, Berlinger's first film to premiere at Tribeca Film Festival, opened to a sold out theater and was followed by an extensive panel discussion.
There are four sold out festival screenings this week, and according to Berlinger, plans are underway for a theatrical release this summer, as well as eventual on-air broadcasts of the documentary feature.