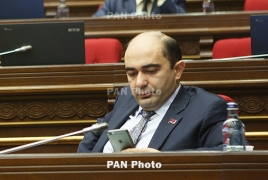 May 2, 2017 - 17:25 AMT
PanARMENIAN.Net - Leader of Armenia's YELQ bloc Edmon Marukyan on Tuesday, May 2 did not reject the idea of a future cooperation with Tsarukyan alliance.
"If the leader of Prosperous Armenia faction declares during the first session of the 6th convocation National Assembly on May 18 that they are an opposition force, we as an opposition faction will propose our programs and be ready to discuss theirs," Marukyan said, adding that the two blocs will thus have 40 seats at the parliament.
According to the final assessment of elections provided by the Central Electoral Commission, the ruling Republican Party of Armenia (RPA) claims 58 mandates, including three for minority representatives (Yezidi, Assyrian and Kurdish), the Tsarukyan bloc has 31 seats overall, including one for a Russian community representative, while YELQ bloc and the Armenian Revolutionary Federation - Dashnaktsutyun get nine and seven parliamentary seats, respectively.
Weighing in on Yerevan City Council elections, Marukyan said YELQ bloc had made a partnership proposal to Zaruhi Postanjyan and her Yerkir Tsirani party.
"One of the proposals offered Postanjyan to head YELQ's proportional list during elections; another one suggested putting her on the second spot; while a third one proposed running in municipal elections as a bloc, all of which were rejected by Postanjyan herself," Marukyan said.
Three parties participate in elections. The ruling Republican Party's proportional list is headed by Margaryan; Nikol Pashinyan, who was recently re-elected to the National Assembly, tops the list of YELQ bloc; while 5th Convocation National Assembly lawmaker Zaruhi Postanjyan, who recently announced the Yerkir Tsirani (Land of Apricot) party, will head its list. Municipal elections are slated for May 14.