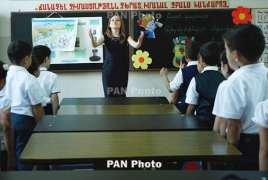 May 3, 2017 - 13:43 AMT
PanARMENIAN.Net - The United Arab Emirates on Wednesday, May 3 said talks between two rival Libyan leaders led to a "significant breakthrough" in efforts to end years of chaos that have gripped the North African nation since its 2011 uprising, The Associated Press reports.
A Foreign Ministry statement marked the first official word on the talks the day before between Field Marshal Khalifa Hifter and Prime Minister Fayez Serraj, who had refused to meet for months.
The statement offered no specifics. Libya TV said Tuesday the two agreed on holding presidential and parliamentary elections next year, but it's unclear how such a vote would be carried out in the fractured country.
On Tuesday, Libya's armed forces posted a Facebook photo of Hifter, a powerful general who lived for years in the U.S., and Fayez, the prime minister of the United Nations-backed government in Tripoli. While the two were known to be traveling to the UAE's oil-rich capital of Abu Dhabi, their face-to-face meeting came as a surprise.
The UAE Foreign Ministry described the meeting "as an important step on the road to reaching a tangible progress in the political process in Libya."
"The UAE believes that any solution that brings stability to Libya, should come from, and be supported by the Libyans, and should be purely based on Libyan-Libyan dialogue," the ministry said. "The international community has a responsibility to avoid more divisions and to encourage more cooperation among the Libyans."
Libya descended into chaos following the 2011 uprising that toppled and killed dictator Moammar Gadhafi. The oil-producing nation now is split between rival governments and warring militias. The turmoil has transformed Libya into a major conduit for migrants crossing the Mediterranean Sea to Europe, and has allowed the Islamic State group and other extremists to establish a presence there.