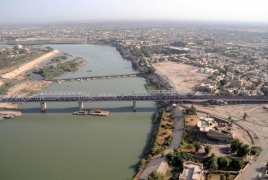 May 3, 2017 - 17:21 AMT
PanARMENIAN.Net - Mosul's wrecked roads, bridges and broader economy will take at least five years to repair and need billions of dollars of development that Iraq's government will struggle to afford, officials returning to the battle-scarred city said, according to Reuters.
The airport, railway station and university were all destroyed in the long fight to dislodge Islamic State militants from their main Iraqi stronghold.
Iraqi government forces backed by a U.S.-led coalition have now retaken the eastern half of the city - letting regional councillors return for the first time in 2-1/2 years to survey the damage.
"After Mosul is fully liberated, we need a working plan to restore things to the way they were before 2014 when Islamic State took over," Noureldin Qablan, deputy chairman of the council covering the surrounding Nineveh province, told Reuters.
He sat back in his office in the heart of Mosul, the province's regional capital, an unremarkable building apart from its new concrete fortifications and the teams of armed guards surrounding it.
A gun lay on his desk, next to his phone and piles of paperwork.
Outside, bustling markets have sprung back into life on the eastern banks of the Tigris river. Over on the other side of the river, Islamic State fighters are holed in, defending the densely-populated Old City with snipers and suicide bombers.
Some of the early repair work could cost as little as $5,000 a house, Qablan said.
But even that would strain budgets that he said were under-funded by the central government in Baghdad.
"Honestly, we are not getting enough support. What has been allocated to Nineveh in 2017 was 52 billion Iraqi dinars ($44.5 million) which is a very small sum for a province this size," Qablan said.
"In 2013 we were allocated 738 billion dinars, yet after all this destruction we get just 52. It is very hard to reach our goals with this sum, so we are counting on foreign grants."