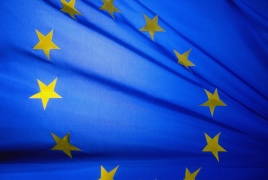 May 11, 2017 - 12:52 AMT
PanARMENIAN.Net - The European Union's executive is planning a possible law to deal with complaints about unfair trading practices by leading online players such as Apple (AAPL.O) and Google (GOOGL.O), Reuters said.
The European Commission said on Wednesday, May 10 in a mid-term review of its digital strategy that it would prepare an initiative by the end of the year to address unfair contractual clauses and trading practices in relations between platforms and businesses, prompting strong criticism from the tech industry.
This follows on from EU proposals to remove barriers in online services to improve European companies' chances of competing against U.S. tech giants like Google, Apple and Facebook (FB.O).
European companies such as Spotify, Rocket Internet (RKET.DE) and Deezer (DZR.PA) have complained that online platforms - such as search engines and app stores - abuse their position as gateways to customers to promote their own services or impose imbalanced terms and conditions.
The Commission said that initial findings of an investigation launched last year showed platforms were delisting products or services without due notice, restricting access to data or not making search result rankings transparent enough.
The Commission wants to establish fair practice criteria, measures to improve transparency and a system to help to resolve disputes.
Spotify hit out at Apple last year after it rejected an updated app for the Swedish music streaming service on iPhones, saying it diminished its competitiveness on Apple's iOS software.
EDiMA, which represents the main online platforms like Amazon (AMZN.O), Apple, Google and Facebook, said it was "disappointed and astounded" at the announcement.
"Considering online platforms 'key gatekeepers' deviates greatly from the progressive thoughts put forward by the Commission in its platform communication in 2016," EDiMA said in a statement.
James Waterworth, vice president of lobby group CCIA Europe which includes Google, Facebook and eBay (EBAY.O), said the Commission should use "flexible tools like competition law to resolve any problems on a case by case basis."
However, some in the music industry welcomed the initiative, saying unfair trading practices had become commonplace in the online environment.
"There is a 'power gap' that distorts competition – it needs to be addressed and we hope the Commission's upcoming proposals in this area will be up to the task," said Helen Smith of IMPALA, the Independent Music Companies Association.