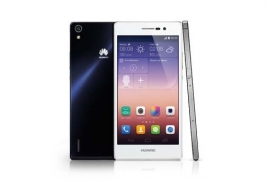 May 23, 2017 - 15:26 AMT
PanARMENIAN.Net - China's Huawei [HWT.UL] has narrowed the gap with its two biggest competitors Apple Inc. and Samsung Electronics in global smartphone sales, first-quarter data from research firm Gartner showed on Tuesday, May 23, according to Reuters.
The Chinese network-to-consumer-electronics builder increased its market share to 9 percent during the first quarter from 8.3 percent in the year-earlier period.
"Huawei has now steadily held the third spot in the worldwide ranking of smartphone vendors," Anshul Gupta, research director at Gartner, said in a statement.
"However, pressure is mounting as its counterparts in China are catching up."
Chinese vendors Oppo and Vivo grew their shares of the market to 8.1 and 6.8 percent respectively, helped by aggressive marketing and sales promotions, posing a threat to both Huawei and Apple in China, where Oppo is the No. 1 smartphone seller.
Samsung Electronics kept its top spot but saw its market share shrink to 20.7 percent from 23.3 percent as it continued to feel the impact of its costly Galaxy Note 7 recall last year after several devices spontaneously caught fire.
"Although Samsung announced that pre-orders for the Galaxy S8 and S8 Plus are up 30 percent year on year, the absence of an alternative to Note 7 and the fierce competition in the basic smartphone segment are leading Samsung to continuously lose market share," Gartner's Gupta said.
Apple's market share dropped to 13.7 percent from 14.8 percent. The first quarter of the year is Apple's weakest when sales dip after the holiday-heavy fourth quarter. Customers are also holding back on buying iPhones in anticipation of new models that will be launched later in the year.
Overall, 380 million smartphones were sold during the first quarter, 9.1 percent more than in the year-earlier period.