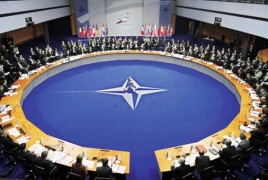 May 23, 2017 - 16:10 AMT
PanARMENIAN.Net - Turkey is vetoing NATO's co-operation with Austria, blocking the alliance's partnership activities with 41 countries, the BBC understands.
Turkey is in NATO, providing the most military muscle after the US, while Austria is not. But Austria co-operates closely with NATO, and has more than 400 troops serving in Kosovo.
Ankara is bitterly critical of Austria's push for the EU to stop Turkey's EU membership negotiations.
A NATO meeting is planned for Thursday.
A well-informed source told the BBC that heightened tensions between Turkey and Austria had essentially blocked NATO co-operation with the government in Vienna for the past year. The veto was affecting all the Western alliance's partnership activities, which include several ex-Soviet states.
German news website Die Welt says NATO is now considering reforming those partnerships, so that each nation signs an individual agreement with NATO that could get around the Austria deadlock.
Turkish President Recep Tayyip Erdogan has blamed Austria for frosty relations with the EU, amid tensions over illegal immigration via Turkey and his huge crackdown on political opponents.
He has also lashed out at Germany, prompting Berlin to reconsider its air force deployment at Turkey's Incirlik airbase.
Erdogan was enraged when Austria, Germany and the Netherlands barred Turkish ministers from campaigning on their soil in the run-up to last month's referendum, in which he narrowly won a mandate for sweeping new powers.
In March the NATO Secretary-General, Jens Stoltenberg, called for an end to Turkey's diplomatic row with Austria.
Austrian Chancellor Christian Kern has spoken out against President Erdogan's purge of public servants suspected of backing last July's failed coup. He said the EU should respond by halting talks on Turkey joining.