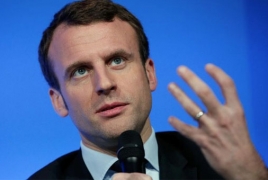 May 23, 2017 - 17:44 AMT
PanARMENIAN.Net - French President Emmanuel Macron got to work Tuesday, May 23 on his first major agenda item of overhauling the labour code, meeting with union leaders and bosses on an issue that sparked strikes and protests last year, AFP said.
The centrist former Socialist economy minister has signalled his intention to move quickly to free up businesses by cutting red tape in an attempt to generate much-needed jobs and growth.
Giving himself a September deadline, Macron says he will use executive orders to sidestep parliament.
Efforts at labour reforms under Socialist president Francois Hollande led to massive street protests last year, many of which turned violent, resulting in the watering down of several measures.
The reforms caused a deep rift within the Socialist Party, leaving the government to bypass parliament to ram through the law.
Morning meetings between Macron, 39, and the leaders of the three main unions, CFDT, CGT and Force Ouvriere were to be followed by a meeting with Pierre Gattaz, head of the main employers' federation Medef.
While employers' representatives have hailed the plans, unions are wary.
"Job market reform is the major subject in France today," Gattaz said. "Let's do it in all transparency, with consultation, but quickly."
For his part, Laurent Berger, head of the most reform-minded union, the CFDT, warned that a "hasty reform of the labour code would be counter-productive (and) if Emmanuel Macron wants to ram it through, it won't work."
His counterpart at the more hardline CGT, Philippe Martinez, also took issue with haste while noting that the timeline coincides with summer holidays for millions of French workers.
"It's a bit much to debate such an essential law while workers are on holiday," Martinez said.
Unions fear new inroads into hard-won workers' rights, though Macron has yet to spell out the new measures.
On the campaign trail, Macron pledged to overhaul complex labour regulations and reduce the weight of the French state in the economy in order to free up business activity.
Bosses would be allowed to negotiate working conditions directly with their employees rather than being required to honour industry-wide agreements.
Critics say the shift would lead to "social dumping" between companies.
Macron, who was elected on May 7, also wants to impose a ceiling on severance pay to workers, a measure virulently opposed by unions.