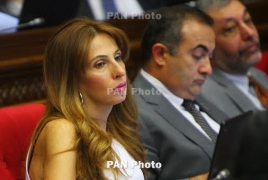 May 24, 2017 - 17:06 AMT
PanARMENIAN.Net - Yerkir Tsirani (Land of Apricot) party leader Zaruhi Postanjyan is challenging the Central Electoral Commission's decision in the Armenian Administrative Court.
The CEC on Sunday, May 21 confirmed the final results of Yerevan municipal elections and rejected Yerkir Tsirani's demand to annul them.
At a session on Sunday, the CEC declared that RPA will receive 46 mandates at Yerevan City Council, while YELQ bloc and Yerkir Tsirani will get 14 and five seats, respectively.
After filing an application with the court, Postanjyan said that the ruling Republican Party (RPA) won a majority in the City Council through fraud and repression, RFE/RL Armenian Service says.
To drive her message home, the former lawmaker has submitted video footage of herself and her daughter being dragged away by police at an RPA campaign office.