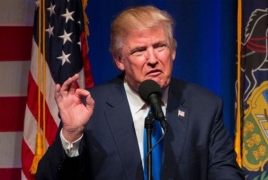 May 25, 2017 - 11:48 AMT
PanARMENIAN.Net - US President Donald Trump is in Brussels for what his team are describing as "tough" talks with other members of the NATO military alliance, BBC News said.
Trump is also due to meet European Union officials on Thursday, May 25. He has been critical of both NATO and the EU.
He wants NATO to commit resources to the fight against so-called Islamic State and may also press members to pay their full financial share.
European leaders will seek assurances of Trump's commitment to US allies.
European Council President Donald Tusk tweeted: "I'll aim to convince POTUS [President of the US] that euro-atlanticism means the free world co-operating to prevent post-West world order."
After landing in Brussels on Wednesday, Trump met the Belgian king and queen while thousands demonstrated against his presence in the centre of the city.
Earlier, he was granted a short private audience with the Pope at the Vatican.
Trump has voiced criticism of other NATO countries for spending less on defence than an agreed 2% of national output.
Ahead of Thursday's meetings, US Secretary of State Rex Tillerson told reporters that Trump "really wants to persuade NATO members to step up and fully meet their obligations".
He added: "I think you can expect the president to be very tough on them and say... 'We are doing a lot. The American people are doing a lot for your security, for joint security. You need to make sure you're doing your share for your own security as well.'
"That's going to be the core of his message to NATO."
Tillerson also said President Trump had yet to make a final decision on whether the US would remain in the Paris climate agreement.
The NATO gathering will see the alliance agree to a US plan for NATO to take a bigger role in the fight against Islamist militants, particularly jihadist group Islamic State (IS) - but France and Germany insist the move is symbolic.