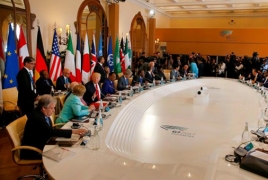 May 27, 2017 - 18:14 AMT
PanARMENIAN.Net - Under pressure from allies, U.S. President Donald Trump backed a pledge to fight protectionism on Saturday, May 27 but refused to endorse a global climate change accord, saying he needed more time to decide, according to Reuters.
The summit of Group of Seven wealthy nations pitted Trump against the leaders of Germany, France, Britain, Italy, Canada and Japan on several issues, with European diplomats frustrated at having to revisit questions they hoped were long settled.
Trump, who has previously called global warming a hoax, tweeted that he would make a decision next week on whether to back the 2015 Paris Agreement on curbing carbon emissions following lengthy discussions with G7 partners.
"The entire discussion about climate was very difficult, if not to say very dissatisfying," German Chancellor Angela Merkel told reporters. "There are no indications whether the United States will stay in the Paris Agreement or not."
However, there was relief that Trump agreed to language in the final G7 communique that pledged to fight protectionism and commits to a rules-based international trade system.
During his election campaign last year, Trump threatened unilateral tariffs on Mexican and Chinese goods and said he would quit the North American Free Trade agreement unless it is renegotiated to his liking. Earlier this week he called Germany "very bad" on trade because of its surplus with the United States.
"In the end we convinced them to include the fight against protectionism in the final communique, so that was a step forward," said one European diplomat, who declined to be named.
Meeting in a luxury hotel overlooking the Mediterranean sea, hosts Italy had hoped that the summit would focus on Europe's migration crisis and the problems of neighboring Africa.
The internal G7 divisions and a suicide bombing in Britain on Monday, that killed 22, overshadowed the Italian agenda, but on Saturday five African leaders joined the world power leaders to discuss their continent's potential.