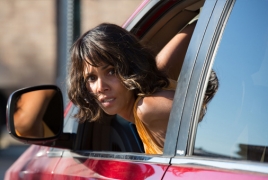 June 12, 2017 - 15:28 AMT
PanARMENIAN.Net - A new trailer for Halle Berry-starring kidnapping action thriller "Kidnap" has been released. The movie follows Berry as a mother who won't stop for anything to recover her kidnapped son, AceShowbiz said.
The trailer opens with a scene of Berry's Karla Dyson playing with her son in a playground. However, everything goes bad when she sees her son being taken away by someone with a car. Karla tries to chase the kidnapper with all of her might and has to risk everything for the purpose. "As long as my son is in that car, I will not stop. Wherever you go, I will be right behind you," she says.
A typical afternoon in the park turns into a nightmare for single mom Karla Dyson when her son suddenly disappears. Without a cell phone and knowing she has no time to wait for police help, Karla jumps in her own car and sets off in pursuit of the kidnappers. A relentless, edge-of-your-seat chase ensues, where Karla must risk everything to not lose sight of her son.
Also starring in the movie are Sage Correa, Lew Temple, Dana Gourrier, Christopher Berry and Chris McGinn. Directed by Luis Prieto, "Kidnap" is set to hit U.S. theaters on August 4.