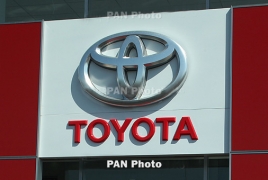 June 14, 2017 - 14:12 AMT
PanARMENIAN.Net - Toyota Motor Corp may consider mergers or acquisitions to procure new automotive technologies, including self-driving technologies, the company's president said on Wednesday, June 14, adding that it had to compete more aggressively against its rivals, Reuters reveals.
At an annual shareholders meeting President Akio Toyoda said the world's second-biggest automaker, which took longer to warm to self-driving cars and electric vehicles (EVs) than its rivals, would be more aggressive in expanding in these areas, conceding he may have focused too much on preserving the status quo at the firm until now.
"The auto industry is undergoing big changes, and issues and ideas which we may have thought were far off in the future could affect us tomorrow. That's why we need to go on the offensive while also preserving our areas of strength," he said.
"We've been investing 1 trillion yen ($9.08 billion) each year for R&D, expanding capex and buying back shares, but this may not be enough. We need to consider all our options, including M&A, to survive in the future."
Toyota has invested $1 billion in an artificial intelligence research institute, and has struck up technology partnerships with Microsoft Corp and Uber Technologies.
It has also opened up to more companies beyond its group suppliers, including tech company Nvidia Corp, to procure more software for its automated driving systems.
The automaker plans to launch a car in 2020 which can drive itself on highways. Meanwhile, rival Nissan Motor Co is already aiming to get cars that can drive autonomously on city streets in that same year and General Motors Co says it has begun to mass-produce self-driving test vehicles.
Toyota also has yet to ink a major capital tie-up with outside companies, after GM has scooped up U.S. autonomous driving technology company Cruise and partnered with ride services firm Lyft, while Ford Motor Co (F.N) has acquired ride-sharing service Chariot.