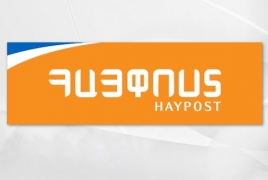 June 16, 2017 - 19:02 AMT
PanARMENIAN.Net - On the initiative of the United Postal Union and Haypost CJSC, a regional workshop was held on June 7-8 in Yerevan. The workshop was focused on the application of the new trademark of the Universal Postal Union, as well as the principal questions of the development and improvement of electronic transfers in countries of Eastern Europe, Caucasus and the Middle East.
Heads of postal operators of Armenia, Belarus, Kazakhstan, Kyrgyzstan, Russia, Ukraine and Uzbekistan, as well as representatives of the Universal Postal Union participated and discussed the schedule of launch and perspectives of the new PosTransfer money transfer system.
The system is planned to be launched by the abovementioned countries, as well as Tajikistan and Moldova by the end of 2017.
The decision to create a united system of money transfers was adopted in the UPU Congress in Istanbul, in September 2016. As HayPost CJSC informs, a united platform has been already created, and the brand style and the logotype of the service have been developed.
PosTransfer postal money transfer system envisages the collection and payment of money transfers through the branch networks of the postal operators, using means of telecommunication, including mobile applications. Funds will be available for receipt immediately after the transfer, in online mode, according to the operational and technological standards, unique for all the member states.
After this first pilot stage, it is expected that the rest of member countries of the UPU will join PosTransfer system at later stages.
The Universal Postal Union unifies 193 countries; it is an international intergovernmental organization with a status of a specialized agency of the UN.