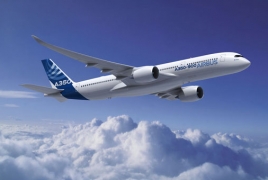 June 16, 2017 - 18:16 AMT
PanARMENIAN.Net - Europe's Airbus plans to upgrade its A380 superjumbo with fuel-saving wingtip devices, or winglets, in an effort to boost slow sales of the mammoth jet, two people familiar with the matter said on Friday, June 16, according to Reuters.
The latest modifications to the world's largest airliner will be announced at next week's Paris Airshow, they said, proceeding with a program of efficiency improvements first reported by Reuters in March.
"We have always said the A380 has further efficiency upside potential," an Airbus spokesman said, declining further comment.
The A380 has suffered a dearth of sales as airlines switch to slightly smaller models with two engines, which are easier to fill and cheaper to maintain.
The project to make the double-decker A380 more attractive to buyers has already led to the scrapping of its "grand staircase" in favor of a more compact structure, leaving more room for seats.
The combination of the improved aerodynamic wing performance and increased seating to more than 600 would lower the operating cost per seat, a key barometer for airlines.
Airbus Chief Operating Officer Fabrice Bregier confirmed last week that Airbus was considering improving the A380 with winglets to make it cheaper to fly.
Such devices cut fuel consumption by reducing drag, but they can involve a weight penalty because the wing may have to be strengthened.
Industry sources have estimated that the overall makeover would improve fuel efficiency by about 2 percent.