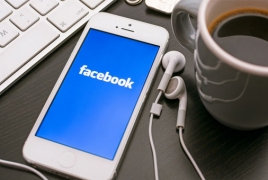 June 17, 2017 - 11:14 AMT
PanARMENIAN.Net - Facebook put the safety of its content moderators at risk after inadvertently exposing their personal details to suspected terrorist users of the social network, the Guardian has learned.
The security lapse affected more than 1,000 workers across 22 departments at Facebook who used the company's moderation software to review and remove inappropriate content from the platform, including sexual material, hate speech and terrorist propaganda.
A bug in the software, discovered late last year, resulted in the personal profiles of content moderators automatically appearing as notifications in the activity log of the Facebook groups, whose administrators were removed from the platform for breaching the terms of service. The personal details of Facebook moderators were then viewable to the remaining admins of the group.
Of the 1,000 affected workers, around 40 worked in a counter-terrorism unit based at Facebook's European headquarters in Dublin, Ireland. Six of those were assessed to be "high priority" victims of the mistake after Facebook concluded their personal profiles were likely viewed by potential terrorists.
The Guardian spoke to one of the six, who did not wish to be named out of concern for his and his family's safety. The Iraqi-born Irish citizen, who is in his early twenties, fled Ireland and went into hiding after discovering that seven individuals associated with a suspected terrorist group he banned from Facebook – an Egypt-based group that backed Hamas and, he said, had members who were Islamic State sympathizers – had viewed his personal profile.
Facebook confirmed the security breach in a statement and said it had made technical changes to "better detect and prevent these types of issues from occurring".
"We care deeply about keeping everyone who works for Facebook safe," a spokesman said. "As soon as we learned about the issue, we fixed it and began a thorough investigation to learn as much as possible about what happened."
The moderator who went into hiding was among hundreds of "community operations analysts" contracted by global outsourcing company Cpl Recruitment. Community operations analysts are typically low-paid contractors tasked with policing Facebook for content that breaches its community standards.
Overwhelmed with fear that he could face retaliation, the moderator, who first came to Ireland as an asylum seeker when he was a child, quit his job and moved to eastern Europe for five months.
"It was getting too dangerous to stay in Dublin," he said, explaining that his family had already experienced the horrifying impact of terrorism: his father had been kidnapped and beaten and his uncle executed in Iraq.
"The only reason we're in Ireland was to escape terrorism and threats," he said.
The moderator said that others within the high-risk six had their personal profiles viewed by accounts with ties to Isis, Hezbollah and the Kurdistan Workers Party. Facebook complies with the US state department's designation of terrorist groups.
"When you come from a war zone and you have people like that knowing your family name you know that people get butchered for that," he said. "The punishment from Isis for working in counter-terrorism is beheading. All they'd need to do is tell someone who is radical here."
Facebook moderators like him first suspected there was a problem when they started receiving friend requests from people affiliated with the terrorist organizations they were scrutinizing.
An urgent investigation by Facebook's security team established that personal profiles belonging to content moderators had been exposed. As soon as the leak was identified in November 2016, Facebook convened a "task force of data scientists, community operations and security investigators", according to internal emails seen by the Guardian, and warned all the employees and contracted staff it believed were affected. The company also set-up an email address, nameleak@fb.com, to field queries from those affected.