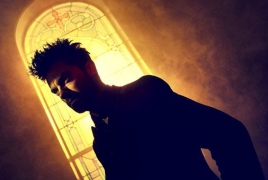 June 17, 2017 - 11:52 AMT
PanARMENIAN.Net - AMC has unveiled new sneak peeks of upcoming season 2 of "Preacher". The new sneak peeks offer details of the violence-packed road trip that Jesse, Tulip and Cassidy will have in the upcoming sophomore season. The sneak peeks also give an insight into their best strategy to find God, AceShowbiz reports.
In the first video, titled "A Look Ahead", both cast and creators discuss why being on the road raises the stakes and adds even more chaos to the three main characters. "[In] season 2, we got, literally, on the road. We get moving," Garth Ennis, co-executive producer and author "Preacher" comic, says. Ruth Negga (Tulip) adds, "They're thrown together on this road trip, and Tulip and Cassidy are just-they're so excited. It's like turning kicks. They are going to the seaside. You know, they think it's gonna be fun, and ice cream, and sand castles, and splashing around. And it's the complete opposite of that."
The video later shows an explosive scene where their car is forced to stop by cops. Dominic Cooper (Jesse) teases the appearance of The Saint of Killers, who will be "operating with his full potential and waht he's capable of." Sam Caitlin adds intriguing details of Dominic's character, saying that Jesse "is not sort of hampered by his rules anymore" in season 2. The EP continues, "We can expect to run into some of the ghosts of Tulip's past."
Meanwhile, the second video offers a look at season 2 premiere. Titled "The Search for God: Day One", the sneak peek sees Jesse, Tulip and Cassidy (Joseph Gilgun) riding a car together while discussing the best way to find God. Instead of focusing on their mission, Cassidy seems to be obsessing over a disturbing fact about the male anatomy.
The 13-episode second season will feature six additional actors, including Noah Taylor ("Game of Thrones"), Pip Torrens ("Star Wars: The Force Awakens"), Julie Ann Emery ("Fargo"), Malcolm Barrett ("Dear White People"), Ronald Guttman ("Homeland") and Justin Prentice ("13 Reasons Why").
Based on DC Vertigo comic, "Preacher" is executive produced by Seth Rogen, Evan Goldberg and showrunner Sam. "Preacher" season 2 will premiere on Sunday, June 25 on AMC.