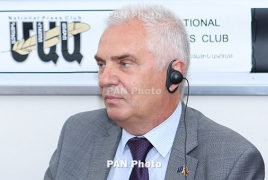 June 20, 2017 - 14:17 AMT
PanARMENIAN.Net - If the European Union's assistance is no longer desirable, it won't impose its presence in Armenia, EU ambassador Piotr Switalsky told reporters on Tuesday, June 20.
The ambassador last week said the Electoral Code needs to be changed to include civil society representatives and weighed in on the efficiency of the voting system. The Republican party, in return, urged the envoy against meddling in the country's internal issues.
"I have never sent messages to the authorities through public statements," Switalski said.
"We maintain good working relations, and the assessments or opinions I have ever expressed are no news for them."
Dwelling upon the elections, the envoy said the EU has provided Armenia with financial aids worth some $7 million, which, according to him, followed the Armenian authorities' request.
"If our support is no longer desirable, we won't impose our presence here. It was thanks to our assistance that a lot of reforms were implemented in Armenia."