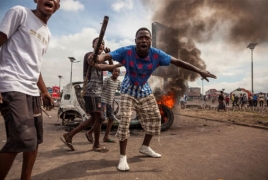 June 20, 2017 - 16:46 AMT
PanARMENIAN.Net - More than 3,000 people have been killed in eight months of spiralling violence in DR Congo's troubled central region of Kasai, a report by the Roman Catholic church said, according to AFP.
According to figures compiled by the church and listed in a report by the papal envoy, a copy of which was seen by AFP on Tuesday, June 20, some 3,383 people have died in violence between security forces and a tribal militia.
The UN's MONUSCO peacekeeping mission had previously spoken of "more than 400 dead" while about 1.3 million people are estimated to have fled their homes in the Kasai provinces.
The papal envoy's note, which was dated June 19, said that 20 villages have been "completely destroyed", 10 of them by the DRC armed forces (FARDC), four by the tribal militias and six by unidentified forces.
It mentioned 30 mass graves, while the UN mission has spoken of 42.
The violence began last year when Kamwina Nsapu, a tribal chieftain in territory near the southern border with Angola, openly challenged the authority of President Joseph Kabila's government, provoking a crackdown by security forces.
Nsapu was killed in a police operation in August 2016, but his armed followers fight on in the belief he is still alive, because he was buried by the regime without respect for traditional rites accorded leaders of his stature which would have opened the way to a rightful succession.
Last February, MONUSCO accused the Kamwina Nsapu militia of "atrocities ... including the recruiting and use of child soldiers," but also condemned "a disproportionate use of force" by the FARDC.
Two western experts sent to investigate the conflict by UN Secretary-General Antonio Guterres went missing in March and their bodies were found in a shallow grave by peacekeepers a fortnight later.
The government blamed the tribal militia for their murders.