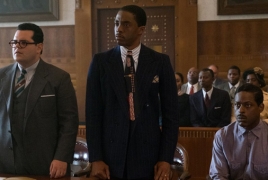 June 22, 2017 - 12:04 AMT
PanARMENIAN.Net - Just weeks after the Black Panther teaser debuted online and drove fans wild, Chadwick Boseman is back in the first trailer for Marshall, The Hollywood Reporter said.
Boseman, a veteran of biopic such as 42 and Get on Up, stars as the titular Thurgood Marshall, the first African-American Supreme Court justice in American history.
The trailer begins with a barfight between Boseman and a group of bullies, setting the tone for the gritty trailer that showcases the early days of Marshall's life, before he helped desegregate schools in the Brown v Board of Education trial in 1954.
"I only represent innocent people, people accused because of their race. That is my mission," Boseman tells Sterling K. Brown's Joseph Spell as he sits behind bars.
Josh Gad also appears as Sam Friedman, a fellow attorney hired by the Bridgeport NAACP who worked as Marshall's partner. Gad also gets jumped by a group of attackers. "You're one of us now," Boseman tells him.
"The only way to get through a bigot's door is to break it down," Boseman says as the trailer closes on a scene in which he takes a nip from a flask by a "Whites Only" water fountain.
The film opens in October.