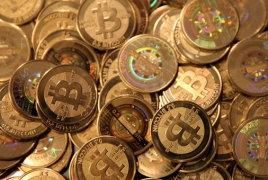 June 27, 2017 - 14:36 AMT
PanARMENIAN.Net - British multinational bank Barclays has been in discussions with regulators about bringing digital currencies like bitcoin into service, CNBC reported citing the bank's UK chief executive Ashok Vaswani, RT said.
"We have been talking to a couple of fintechs [financial technology firms – Ed.] and have actually gone with the fintechs to the FCA [Britain's Financial Conduct Authority – Ed.] to talk about how we could bring, the equivalent of bitcoin, not necessarily bitcoin, but cryptocurrencies into play," Vaswani told CNBC.
According to him, it's an "obviously new area we've got to be careful with..."
"(We're) working on it, (it's) not ready for prime time, we'll get there soon," he added without giving any other details.
Barclays has been experimenting with bitcoin and working with digital currency start-ups. The bank wants customers to be able to receive bitcoin payments directly in their accounts.
Last year Barclays partnered with social payments app Circle which allows users to send money in messages and supports bitcoin. The start-up received a license from the FCA in 2016. Barclays provided Circle with an account to store Sterling, as well as the payments network to transfer money.
Two years ago the bank signed a deal with bitcoin company Safello to explore financial applications of the blockchain technology that powers the cryptocurrency.
Other big banks have also become interested in blockchain technology. They include UBS, Deutsche Bank, Santander and BNY Mellon. Last August they partnered to create a new digital currency to facilitate intra-bank settlements.
Banks have typically been very cautious in dealing with cryptocurrencies. However, bitcoin's recent rocketing rise in value, making it the world's biggest cryptocurrency by market cap, has seen growing retail investor interest.
The FCA is still cautious about bitcoin, warning institutions which deal with the virtual currencies.
"We don't prohibit regulated firms from engaging in digital currency trading, nor do we prohibit banks from offering banking services to deal with currency firms that use [blockchain]," said FCA's UK executive director of strategy Chris Woolard.
"I am not saying that we view digital currencies as an inherently bad thing… but we do have to exercise a degree of caution," he added.