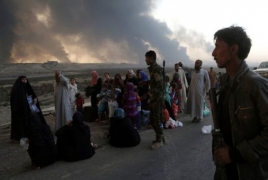 June 30, 2017 - 10:32 AMT
PanARMENIAN.Net - After eight months of grinding urban warfare, Iraqi government troops on Thursday, June 29 captured the ruined mosque at the heart of Islamic State's de facto capital Mosul, and the prime minister declared the group's self-styled caliphate at an end, Reuters said.
Iraqi authorities expect the long battle for Mosul to end in coming days as remaining Islamic State fighters are bottled up in just a handful of neighborhoods of the Old City.
The seizure of the nearly 850-year-old Grand al-Nuri Mosque -- from where Islamic State proclaimed the caliphate nearly three years ago to the day -- is a huge symbolic victory.
"The return of al-Nuri Mosque and al-Hadba minaret to the fold of the nation marks the end of the Daesh state of falsehood," Prime Minister Haider al-Abadi said in a statement, referring to the hardline Sunni Mulsim group by an Arabic acronym.
The fall of Mosul would in effect mark the end of the Iraqi half of the IS caliphate, although the group still controls territory west and south of the city, ruling over hundreds of thousands of people.