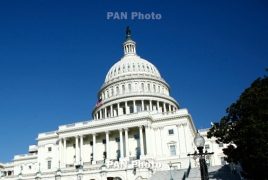 July 1, 2017 - 11:32 AMT
PanARMENIAN.Net - Senate Democratic Leader Chuck Schumer (NY), a decades-long outspoken advocate of justice for the Armenian Genocide, has cosponsored bipartisan Senate legislation condemning that crime and calling for an end to international complicity in Turkish government denials, reported the Armenian National Committee of America (ANCA).
"All countries should recognize the horrific genocide that occurred 102 years ago to the Armenian people," said Senator Schumer.
"It is my sacred duty to speak out against the terrors of the past and against those who cannot speak of it themselves and that's why I am a proud co-sponsor of this Senate resolution. I stand with the worldwide Armenian community in labeling the atrocities against the Armenian people as genocide."
S.Res.136 was introduced by Senator Robert Menendez (D-NJ) with the bipartisan support of Senators Ted Cruz (R-TX), Ed Markey (D-MA), and Tom Udall (D-NM) earlier this year on April 24, the international day of commemoration of the Ottoman Turkish Government's murder of over 1.5 million Armenians from 1915-1923. The resolution calls on the President to "work toward an equitable, constructive, stable, and durable Armenian-Turkish relationship that includes the full acknowledgment by the Government of the Republic of Turkey of the facts about the Armenian Genocide." It goes on to urge that "the foreign policy of the United States reflects appropriate understanding and sensitivity concerning issues related to human rights, crimes against humanity, ethnic cleansing, and genocide documented in the United States record relating to the Armenian Genocide."
Other cosponsors of the measure include Senators Dianne Feinstein (D-CA), Cory Gardner (R-CO), Gary Peters (D-MI), Jack Reed (D-RI), Marco Rubio (R-FL), Debbie Stabenow (D-MI), Chris Van Hollen (D-MD), Elizabeth Warren (D-MA), Sheldon Whitehouse (D-RI), and Ron Wyden (D-OR).