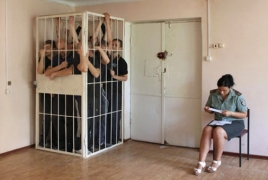 July 5, 2017 - 17:13 AMT
PanARMENIAN.Net - "Censor", directed and produced by Peter Kerekes, and written by Ivan Ostrochovsky, has won the 14th edition of the Karlovy Vary Film Festival's Works in Progress competition, which is open to projects from Central and Eastern Europe, the Balkans, Turkey, Greece and former Soviet territories, Variety said.
The jury, which consisted of Iole Maria Giannattasio, directorate general for cinema at the Italian Ministry of Cultural Heritage, Activities and Tourism (MiBACT), producer Cedomir Kolar from A.S.A.P. Films, and Susana Santos Rodrigues, a film programmer, distributor, producer and co-founder of Vaivem, awarded the prize to the Slovak film for "its original and vivid human portrait of a lonely woman."
The film centers on Irina, who works as a censor in a prison in Odessa, Ukraine. She spends eight hours a day in her office reading love letters. "Through her, we follow various love affairs that only she can observe," according to a statement. "Although she sees how women being used, and how the relationships end in disaster for them, she cannot take any action. She is a single woman and after 12 years of reading love letters full of the lies men tell, she is not capable of any relationship. If a guy on a date says, 'You are special,' she feels sick. But, of course, even she dreams of love."
Eight projects competed and one was selected out-of-competition from 77 projects submitted. The award, which has a total value of Euros 100,000 ($114,000), includes post-production services at UPP and Soundsquare, as well as a Euros 10,000 ($11,400) cash award from Barrandov Studio.
"The Stand-In," directed and written by Ra di Martino and produced by Marco Alessi, won the Eurimages Lab Project Award. The prize is for projects that are in production or post-production, and are "being made outside the traditional filmmaking framework, and involve international co-operation." Eight projects were considered, selected from 45 submissions from Eurimages countries. The winning project, which received an award of Euros 50,000 ($56,800), was awarded for its "ironic visual experimental approach to innovative narrative, and for being an intersection of art and film." The film is a co-production from Italy, France and Morocco.
In the movie a small film crew travel around Marrakech and the surrounding area looking for swimming-pool locations for a remake of an American movie in which a man crosses the county, pool by pool, to reach his home (presumably 1968's "The Swimmer," starring Burt Lancaster). The filmmakers rehearse the shots with a stand-in to find the path through the city and the pools that the main actor will run and swim through. "As we watch his struggles to become more than just a stand-in, the real actors and film crew burst onto the scene on a set where nobody seems to be in the right place," according to a statement. "[It is] a film in search of itself, looking for where the real film is."