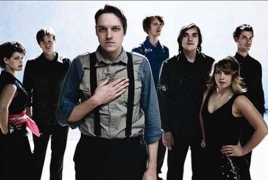 July 5, 2017 - 17:47 AMT
PanARMENIAN.Net - Arcade Fire debuted a new song, 'Chemistry', at their sold-out, intimate show at London's York Hall – while also finding the time to poke fun at Kylie and Kendall Jenner's recent attempts at making controversial t-shirts, Gigwise reports.
The small and compact show was part of Arcade Fire's Infinite Content tour and the band treated fans to a 17-song set. Having opened the gig with the forthcoming album's title track, 'Everything Now', Arcade Fire premiered new track, 'Chemistry'. Unlike the band's previous warm-up shows, fans didn't have to surrender their phones at the door and judging by the brief clip that's surfaced online, Arcade Fire are still pursuing the dance-inflected direction that they embarked upon with their last album, Reflektor.
Elsewhere, Arcade Fire parodied Kylie and Kendall Jenner's recent t-shirt efforts that saw the pair plastering their faces over band logos and images. The Jenners' t-shirts were swiftly pulled after incurring the ire of the artists whose images and logos they defaced. Here, the band put the Everything Now symbol over the top of the faces of the Jenners.
Arcade Fire played:
Everything Now Rebellion (Lies) Neighborhood #2 (Laika) Here Comes the Night Time Chemistry Signs of Life No Cars Go We Used to Wait Neon Bible Ready to Start Neighborhood #1 (Tunnels) Sprawl II (Mountains Beyond Mountains) Reflektor Afterlife Creature Comfort Neighborhood #3 (Power Out) Wake Up
Everything Now is released on July 28.