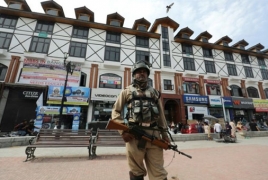 July 8, 2017 - 10:34 AMT
PanARMENIAN.Net - India on Saturday, July 8 imposed a widespread curfew, cut off all internet services and deployed thousands of troops in Kashmir as the volatile Himalayan region marked the anniversary of a hugely popular rebel leader's death, AFP reports.
Residents of Indian-administered Kashmir said the restrictions on movement were some of the strictest they had seen, with some villagers told they would be shot if they left their homes.
The disputed region has seen an explosion of protests against Indian rule since government forces shot and killed Burhan Wani a year ago.
The death of the dashing 23-year-old, who had built up a big following on social media, sparked an outpouring of grief and anger that spilled into the streets and led to months of clashes with security forces.
Nearly 100 people died in the months that followed and many more sustained serious eye injuries from the pellet guns used by government forces to quell the protests.
Separatist leaders -- most of whom have been either confined to their homes or jailed -- have called for a week of protests from Saturday to mark Wani's death.
As the anniversary approached, thousands of soldiers spread out across the Kashmir Valley, one of the most heavily militarised places on earth.
Kashmir, divided between India and Pakistan since 1947, is one of the most heavily militarised spots on earth with a long history of conflict.
The mountainous region is home to dozens of armed groups fighting for independence or a merger of the territory with Pakistan.
But since Wani's death, civilians have played an increasingly active role in the rebellion against Indian rule.