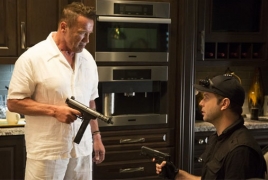 July 8, 2017 - 12:39 AMT
PanARMENIAN.Net - Saban Films has acquired North American distribution rights to Taran Killam's Killing Gunther, in which he stars alongside Arnold Schwarzenegger, The Hollywood Reporter said.
Bobby Moynihan, Hannah Simone, Cobie Smulders and Paul Brittain also star in the action-comedy. Schwarzenegger plays the titular character, the world's greatest hitman. There are plenty of reasons to want to kill him: he's arrogant, he's a show-off and he steals jobs. The assassin community is tired of his arrogance and habit of stealing jobs, so a group of eccentric killers from across the globe come together to set the perfect trap. But their master plan quickly turns into a series of embarrassing fails, as Gunther always appears one step ahead.
The film, which recently wrapped production, is produced by Killam, Kim Leadford, Ash Sarohia and Steve Squillante, executive produced by Schwarzenegger and financed by StarStream Media and Ingenious Media. Saban Films is planning a theatrical release later this year.
"Taran Killam's immense talent on both sides of the camera is on full display in his impressive directorial debut," said Bromiley. "We can't wait for audiences to see Arnold Schwarzenegger in the type of role that has made him one of the most watchable and reliable stars of all time."
Ness Saban and Bill Bromiley negotiated the deal on behalf of Saban Films with UTA Independent Film Group and CAA. IMR International is handling the foreign rights.
Killam added: "I am unbelievably grateful to Saban for distributing my directorial debut, and [for] the excitement and support they've shown our film. I particularly applaud their courage in taking a risk on my up-and-coming costar 'Schwartzy' as he hates to be called."