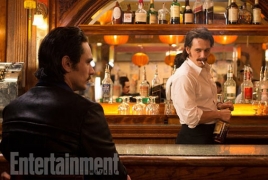 July 10, 2017 - 10:46 AMT
PanARMENIAN.Net - HBO has released a new teaser for its upcoming porn drama "The Deuce" starring James Franco and Maggie Gyllenhaal. The new teaser gives fans a better look at James' dual characters on the series, Vincent and his twin brother Frankie Martino, AceShowbiz said.
Set to funky music, the teaser offers the night scenery in and around Times Square, New York. One of the Martinos is later seen trying to convince a girl to seemingly join porn industry. "I wouldn't want to make you feel like... thing," he promises the girl, who later responds, "You're smarter than you let on."
The teaser also gives a better look at Maggie's character named Candy, a Times Square sex worker with an entrepreneurial spirit who is drawn into the emerging pornography industry. A sneak peek at how the Martino bros are trying to build the first legalized porn industry in New York is also glimpsed as cameras and lightings are perfectly installed to film two female porn stars, who don braided blonde wig.
Hailing from "The Wire" creator David Simon and George Pelenacos, "The Deuce" follows the legalization and ensuing rise of the porn industry in New York beginning in the 1970s. Themes explored include the rise of HIV, the violence of the drug epidemic and the resulting real estate booms and busts that coincided with the change.
The cast also includes Emily Meade, Anwar Glover, Gary Carr and Lawrence Gilliard Jr. Canadian TV director and producer Michelle MacLaren directed the pilot, while James was said to direct at least one episode of the first season. David, George, Richard Price, Megan Abbott and Lisa Lutz penned the script.